Breaking News
Now, India caps the export of sugar
---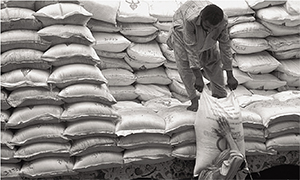 NEW DELHI, 25 MAY. In yet another bid to cool down prices, the government on Tuesday capped the export of sugar and allowed duty free import of 20 lakh tonnes each of crude soyabean and crude sunflower oil per annum during the current and next financial years.
While the import duty changes are likely to bring more respite to consumers after Indonesia resumed the export of palm oil, the move on sugar is aimed at ensuring enough stock till the end of current sugar season in September and to meet the requirement till December.
The steps are the latest in a series of measures announced over the last 10 days in the wake of inflation soaring to the highest level since the Narendra Modi government came to office eight years ago.
The government had earlier done away with the basic customs duty on crude edible oil till September 30, 2022. The fresh reduction in import duty and agriculture development cess will bring further relief.
"It's a welcome move and the prices may reduce in the range of Rs 3 to Rs 5 per litre. The government should also do away with the cess and duty on palm oil considering it constitutes nearly 40% of our edible oil consumption," said B V Mehta, executive director of Solvent Extractors Association.
During the last one year, the average retail price of soyabean oil and sunflower oil have increased by 11.6% each to Rs 171 and 192 a litre, respectively. In the case of palm oil and Vanaspati, the average prices have increased by 19% and 28% respectively during this period. For most households a continued increase in edible oil prices has been a concern, a problem that has been complicated by the war in Ukraine and steps in Indonesia on palm oil exports. There are concerns over supplies from Malaysia. India imports around 60% of its edible oil requirement with the commodity being among the top contributors to retail inflation in recent months.
Several countries around the world have clamped down on wheat exports, while Indonesia had imposed curbs on palm oil exports.
Late Tuesday, citing unprecedented growth in exports, the government announced a cap on sugar exports at 100 lakh tonnes as it sought to ensure that there is enough stock when the sugar season begins in October to meet the consumption requirement for three-months.
India's action on sugar sent shockwaves in the global markets as it is the world's second largest sugar exporter after Brazil. "The government doesn't want any hike in prices of any key commodity as that will have a spillover effect," said an official.