test2
India's stunning display at the Dosti Cup 2018
---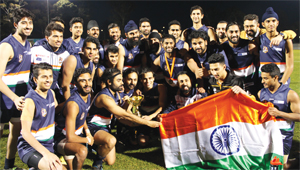 The Bharat Football Club has stunned the Shaheens (Pakistan) to claim the 2018 Dosti Cup with a comfortable 12.6.78 to 3.10.28 victory. The BFC become the first Indian team to take home the Cup after three previous attempts by AFL India.
Pressure was on BFC to avoid a slip up against the arch rival, but a lightning start set the tone for a comfortable win. Sahil Grewal as he has done all year won countless centre taps to give his speedy on ballers' first use out of the midfield. First gamer Aman Rai was instrumental in the midfield with his hardness at the contest and slick skills a real feature.
Fan favourite Gurnaz Khatra drove the victory, relishing the freedom offered by the Pakistan team. Gurnaz had the ball on a string while running his wing all day, and the BFC took a 10 point lead into the main break. "Naz is just one of those young blokes you want at your club," BFC coach Sana Singh said after the match.
The BFC clicked into overdrive in the second half piling on eight goals to one. Captain Sagar Ashoka awarded the best on ground medal lead from the front, putting his body on the line and winning the hard balls for his team mates.
Harkireth Calais was again one of the BFC's best and when moved forward in the third quarter kicked two crucial goals. Power forward Yasser Hussain put a disappointing first half behind him and finished with three goals.
Chris Singh and Jasjit Singh also in their first games for the club where damaging from the back half and set up a number of scoring plays.
"We gave Chris a job in the second half and he was amazing for us. Jasjit's combination of intercept marking and run of half back was a real highlight for us tonight," Sana Singh said
The BFC had an even contribution across the ground from all players with their team play standing out above all else. It was party time in the last quarter when Aashish Sharma kicked his third goal to ice the deal and bring home a sixth trophy for the club in less than 12 months.
A healthy crowd was there to witness the duel at the Werribee Oval on a lovely Saturday evening under lights. The supporters from both nations cheered the players and the Pakistan supporters including families and children sang several songs encouraging their players.
There were times during the match when the contest looked to take an aggressive turn with players from both teams pulling and shouldering but it was all in good spirits. The club will now turn its focus to their annual grand final week match with Monash University.
The Scores
BFC (India) 12.6.78 defeated SSC (Pakistan) 3.10.28
Goals - 3 Yasser Hussain, 3 Aashish Sharma, 2 Chaitan Sarikonda, 2 Harkireth Calais, 1 Gurnaz Khatra, 1 Francisco Darius Fernandes
Best - Jasjit Singh, Sagar Ashoka, Harkireth Calais, Sahil Grewal, Navi Singh, Aman Rai, Gurnaz Khatra