Breaking News
Good news for Australians and Indians FREE TRADE AGREEMENT BETWEEN AUSTRALIA & INDIA UNDERWAY
---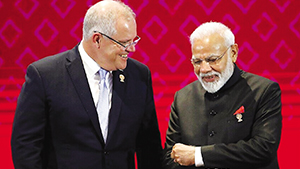 CANBERRA, 24 DEC. The Australian Chamber of Commerce and Industry (ACCI) welcomes the Australian Government's move to 'fast-track' negotiations on a free trade deal with India.
"Given businesses have been hard hit by COVID, now is the perfect time to progress talks with the world's largest democracy on a free trade deal to boost Australian exports" ACCI chief executive Andrew McKellar said.
"Increasing access to Indian markets will help Australian businesses diversity and bring immense benefits to industries such as wine, grain and minerals which have encountered issues exporting to other overseas markets."
"Our high quality, Australian made products are in demand overseas and a free trade agreement with India would make it easier and more accessible for local enterprises to sell their products to one of the world's largest and fastest growing economies."
"As we have seen with other free trade deals, this would not only benefit Australian businesses but individuals as well through increased job opportunities."
"Two-way trade with India was worth over $24 billion in 2020 and in the five years before the pandemic this two-way trade and investment doubled. A free trade partnership between our two countries would work to further cement our strong and growing trade relationship.