Sports
Ravi Shastri's statement crushed me – Ashwin
---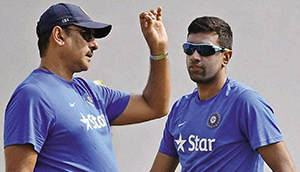 Ravichandran Ashwin makes interesting revelation about India's former head coach. Talking about the struggles of his career, Ravichandran Ashwin has made an interesting revelation that he was not particularly amused when the former Indian head coach Ravi Shastri said after the 2018-19 Border Gavaskar series that Kuldeep Yadav and not Ashwin was going to be India's first-choice spinner in overseas test matches going ahead.
According to Ashwin, that statement of Ravi Shastri just completely crushed him. It's not that he was not happy about the success of Kuldeep, he was ecstatic that a young spinner had taken a 5-wicket haul on his very first tour of Australia, but for him to truly enjoy the success of anyone else, it's important that he feels he belongs there, and he didn't have that feeling when that statement was made by the head coach.
Ashwin insisted that he could understand Shastri's point of view because he was the head coach, and he made a statement to encourage a young spinner which, he thought, was in the best interests of the team and that is why he doesn't hold it personally against Shastri, but what Shastri said had adverse effects on him.
Ravichandran Ashwin has opened up about various things and one of them is his fitness as well, which he thinks people have been very insensitive to. Ashwin reckons the Indian cricket community isn't really very empathetic towards people who have fitness issues and never really tries to understand it from the player's perspective. Ashwin revealed that he had fitness issues w here his body took a while to warm up and there were occasions where he was gasping for breath after bowling just one over. It had worsened to an extent where retirement crossed his mind several times. Ashwin said the worst part about it all was that he never really felt backed by anyone when he was going through it, while the other people in similar sort of situations is backed.
Asked if Shastri's comment could have been intended as motivation, Ashwin responded, "Motivation is for those who need it. But when someone is going through a tough phase in life and needs an arm around his shoulder… that was a tough phase in my life."
Shastri countered Ashwin's comments. "Ashwin did not play the Test in Sydney and Kuldeep bowled well. So it's fair I give Kuldeep a chance. If that hurt Ashwin, I am very happy. It made him do something different. My job is not to butter everyone's toast. My job is to state facts without agenda. If your coach challenges you, what will you do? Go home crying and say I won't come back? I as a player would take it as a challenge, to prove the coach wrong. If my statement on Kuldeep hurt Ashwin, I am glad I made that statement. It made him do something different."
''Very difficult to maintain a healthy team environment when such things come out''- former selector and wicket-keeper Saba Karim said on Ashwin's statement on Shastri ahead of India-South Africa Tests. "Very difficult to maintain a healthy team environment when such things come out (Ashwin's statement on Shastri). Rahul Dravid's role will be very important. Captain shouldn't feel under pressure because of such developments." Commenting on the same, former spinner Nikhil Chopra said that Ashwin had every right to be disappointed with Shastri's comments, adding that one can't have different treatment for different players.
Chopra said, "Shastri labelled Kuldeep Yadav as the best overseas spinner. While at times you need to say these things to give confidence to a player, you need to ensure you don't disrespect other members of the team. Ashwin must be disappointed. You cannot have different treatments for different players."
Talking about the family support he received during those tough moments, Ashwin said, "I contemplated retirement for a lot of reasons. I felt like people were not sensitive enough to my injuries. I felt like a lot of people were backed, why not me? I have done no less. I have won a lot of games for the team, and I am not feeling backed. I don't usually look for help, that somebody needs to back me, that somebody needs to cushion me or give me empathy. I felt I was not being able to be excellent and felt I needed a shoulder to lean on. It was not happening. I thought maybe I should try to find something else and be excellent at that. Just after the England series in 2018, after Southampton, was one phase. Again in Australia later that year where I tore my abdomen after the Adelaide Test, before and after Sydney. Many stages, The only person I would be talking to was my wife. But my father was hell-bent: you will make a comeback in white-ball cricket, and I will see that before I die. For him it was more personal"
Meanwhile, BCCI President Sourav Ganguly has said that Virat Kohli was the one who advocated for the inclusion of R Ashwin in the World Twenty20. Ganguly said he was confused about the inclusion of Ashwin. Everyone is talking about Ashwin. Look at what Rahul Dravid said after the Kanpur Test. Rahul Dravid described Ashwin as the best match winner and the best player of all time. There is no need for rocket science to assess Ashwin's ability, Ganguly said.
Ganguly hints that Ashwin will continue in India's white ball plans. I see no reason not to support Ashwin. Look at Ashwin's success figures. Ashwin was part of the Indian team that won the 2011 World Cup. According to Ganguly, Ashwin was the team's leading bowler in the tournament when he won the Champions Trophy in 2013. The decision to include Ashwin in the T20 World Cup was much discussed. After 2017, Ashwin was called up to the Indian white ball team. Ashwin joins Indian playing XI after losing first two T20 World Cups
In 2020, Ashwin played a crucial role with the ball in the 2nd test win at MCG for India. In the third test he played the innings of his life when he hung around for over 30 overs with Hanuma Vihari to draw the game at SCG. The home series against England saw Ashwin the fastest Indian bowler to reach 400 test wickets. With 14 victims in the recent series against New Zealand, Ashwin has reached 427 test victims. He is now 7 behind the great Kapil Dev and stands to become the 2nd best Indian bowler in India test history. Kohli and Ashwin have been the subject of much speculation in the recent days, but Kohli will want the 35 year old to fire on all cylinders and give India its first test series win in what many fans consider the final frontier in South Africa.