Sports
"From 1929 hrs consider me as Retired" – M S Dhoni
---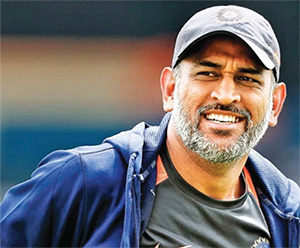 Former India captain and two-time World Cup winner, Mahendra Singh Dhoni announced his retirement from international cricket on India's Independence Day (August 15) via an Instagram post. "Thanks a lot for ur love and support throughout. from 1929 hrs consider me as Retired (sic)", read his post of the formal announcement. The Chennai Super Kings captain, though, is expected to feature in the upcoming IPL 2020 in the UAE and was spotted arriving in Chennai for the team's brief training camp before they fly out to the middle east. Dhoni had earlier quit Test cricket in 2014 after the Melbourne Test on the tour of Australia and had handed over ODI and T20I captaincy to Virat Kohli in January 2017.
The story of Mahendra Singh Dhoni (retirement), who took off from international cricket amidst the song 'Main Pal Do Pal Ke Shire Hain, Pal Do Pal Pal Meri Kahaani Hai', played in the backdrop of a four-minute emotional video It is a story of success to be recorded forever in the history of India. Leaving a small city like Ranchi, Dhoni, who made his own place in the glitzy world of cricket confined in metros, encouraged the youth to dream and fulfill them. The career statistics of Dhoni, who won two World Cups, shows what can be achieved if the intentions are strong.
After reaching the pinnacle of success, one day, he suddenly quit goodbye to Test cricket when he was ten matches away from scoring a Test century. Five years and seven months later, on August 15, when the country was celebrating the completion of 74 years of independence, in the evening, Dhoni wrote on Instagram, "Consider me retired from 7.29 pm."
"It is the end of an era," said BCCI President Sourav Ganguly. "What a player he has been for the country and world cricket. His leadership qualities have been something which will be hard to match, especially in the shorter format of the game. His batting in oneday cricket in his early stages made the world stand up and notice his flair and sheer natural brilliance. Every good thing comes to an end and this has been an absolutely brilliant one. He has set the standards for the wicketkeepers to come and make a mark for the country. He will finish with no regrets on the field. An outstanding career; I wish him the best in life."
In nearly 16 years at the highest level, Dhoni led India through its most successful era and has the 2007 T20 World Cup, 2011 ODI World Cup, and the 2013 Champions Trophy in his cabinet. And above all was instrumental in leading India to be the No 1 Test team in the world for 21 months – Nov 2009 to Aug 2011.
Dhoni's last ODI was his 350th for India, wherein he finished with a fighting 72-ball 50 against New Zealand at the 2019 World Cup which proved insufficient in the end. Dhoni, who finished with 10,773 runs at an average of 50.57 in ODIs, is the fifth Indian to surpass the 10k-run mark in the 50-over format. The wicketkeeperbatsman also has 229 ODI sixes - the most for an Indian batsman.
Dhoni took over as India's ODI captain from Rahul Dravid in 2007 and has won 55 percent of the 200 games he captained the national side (110 wins, 74 defeats, 5 tied, 11 NR). His 200th ODI captaincy assignment came in the Asia Cup 2018 encounter against Afghanistan after Rohit Sharma - the designated skipper for that tournament - was rested for the game, which eventually ended in a tie. In T20Is, Dhoni played two shy of a 100 games, scoring over 1617 runs at a strike rate of 126.13. More importantly, he led India to glory in the inaugural World T20 in 2007. He has a 58.33 win percentage in this format, with 42 victories in 72 games as captain.
Besides being India's most successful captain in the limitedovers format, Dhoni also redefined wicketkeeping skills and earned the reputation of being one of the finest stumpers in the world in the last few years. With 829 dismissals across the three formats in international cricket (634 catches, 195 stumpings), Dhoni finishes third on the list of wicketkeepers with most dismissals, only behind Mark Boucher (998) and Adam Gilchrist (905).
MS Dhoni is known for being patriotic, and he has displayed this on innumerable occasions in the past. One recent incident that comes to mind is from a T20I between India and New Zealand in 2019. A fan ran on to pitch while the wicket-keeper was donning the gloves, and fell at his feet with the Indian flag in hand. As the fan bent down, however, the tricolour brushed the floor. MS Dhoni immediately caught hold of the flag, before briefly acknowledging the fan's gesture. This is just one of many such incidents, but the fact that it happened in his last year in international cricket, as well as the team against which he played his last game, lends immense poetic value to it.
MS Dhoni is not very vocal about his charity work, but reports suggest that the Ranchi man is very generous with his donations. He established the MS Dhoni Charitable Foundation in 2010, and the organisation has contributed to various social causes, such as the betterment of Indian Army officials. MS Dhoni was also seen presenting a 2-crore cheque to the Indian armed forces ahead of an IPL 2019 game and has organised fundraisers to aid wounded soldiers. The Chennai Super Kings (CSK) captain has opened cricket academies across the world as well and continues to give back to the sport that has given him so much. Even recently, MS Dhoni made the headlines for a donation to fight the COVID-19 pandemic.
MS Dhoni was in Australia to participate in the 2015 World Cup, and his daughter was born just ahead of the quadrennial tournament. However, the then-33-year-old refused to fly back home to be with his wife and child, stating that he is on national duty and that everything else can wait. His statement was "Yes, I have been blessed with a baby daughter. Both mom and child are fine. No (I will not return), I am on national duty. World Cup is important for me and I'd rather be here."