Local News
Australian Haryanvis set an example of celebrating 'Teej' festival on-line
---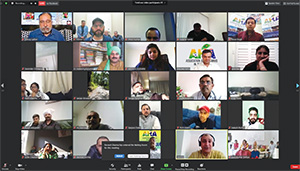 MELBOURNE, 26 JULY.COVID-19 couldn't restrain the Haryanvis and Association of Haryanvis in Australia (AHA) from celebrating the festival of 'Teej' from 7:30 am to 12:00 noon (Indian time) on Zoom and Facebook.
Indian Voice has informed that more than 600 people joined on zoom and about 29,000 people watched live on Facebook. People joined from different parts of Australia and also from overseas, including India, Canada, U.K., France.
AHA Organising team said that keeping in view of 'our traditions and samskaras', the program started after seeking permission and blessings of the elders and by playing of conch by renowned folk artist Mahavir Guddu. Shri Anoop Lather, a senior Haryanvi films actor and father of Ratnavali, Dr. Mahasinh Punia, Director, Department of Cultural and Student welfare at Kurukshetra University, eminent folk artists Mahavir Guddu, Raghuvendra Malik and Jagbir Rathi graced the Teej Mela as special guests and discussed the preservation of festivals, history of Teej, songs and customs of Sawan. Haryanvi poem "Kothali" by Shri Anoop Lather, Desi Makhol by Dr. Maha Singh Punia, melodious song "Tu Raja Ki Raj Dulari" by Mahavir Guddu" and "Bol Tere Mithe-Mithe" by Jagbir Rathi were enjoyed by the audience with great enthusiasm.
A different dimension to the program was given by singing the traditional folk songs such as "Samun Ke Ritu Aa Gayi Ri", "Meethi to Karde Ri Mata Kothali" and "RimjhimRimjhim He Maa Meri Rang Chhuva Ri" by Neeru Naresh, Kirti, Sheila, Sangita, Usha, Taruna, Ritu, Suresh and Sunita.
In addition, Parisha, Arnava, Praveen and Monica also did commendable work by telling poetry about Teej festivals.
The folk dance performed by Meenu Dhull on the song "Kaachi Imli Gadrai Saman Main" was greatly appreciated by all. This online Teej was not only characterized by traditional folk songs and dance but also an Online Quiz Competition which was well attended by more than 100 participants and trying their hands-on Haryana, Teej, Bollywood and programme related questions.
Sanjeev Dalal and Vibhor Sharma, members of the Association of Haryanvis in Australia (AHA), a social institution founded by Haryanvi families living in Australia, said that the motivation behind celebrating festivals like Teej is to hand over our cultural heritage to the younger generation as a gift. With the tireless efforts of the AHA, the people of the Haryanvi community all over Australia are unitedly similar.
Just like brothers visit their sisters to distribute "Kothli (loads of sweets and new dresses)" in Haryana, organizers of the event distributed Ghewar and Gulgule (sweets feasted upon by Haryanvis during the month of Saawan) among community members residing in different Australian cities in a similar fashion.