Sports
India ready to quarantine to make Australia tour happen
---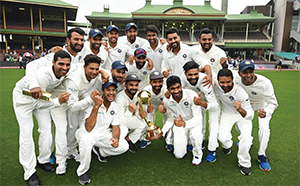 The BCCI is working on an 'isolation' camp for its players to get things underway for the resumption of cricket amidst the Covid-19 pandemic. It is learnt that the board is looking for a place that could be outside the defined containment zones to have its senior players, team management and other staff to get started with the training after a gap of over two months. The National Cricket Academy (NCA) in Bengaluru has all the facilities for training but there are still cases of Covid-19 in the city. "The safety of the players is the board's priority. We will have to work on the logistics and see if Bengaluru is safe enough. If things don't look fine, then we will look for areas in the country which fall outside the containment zones. The camp will be sanitised. And there is also an option of opening up local stadiums to senior players," a BCCI official said.
Given the circumstances, India's impending tour of Sri Lanka in late June looks highly unlikely. The players would need at least a month and a half to get back into their groove for an international tournament. The focus right now is clearly on the ICC T20 World Cup or a curtailed IPL, if possible.
Meanwhile, Cricket Australia (CA) are grappling with similar scheduling problems. Australia are due to host the Twenty20 World Cup in October-November 2020, host Afghanistan for a one-off Test, and then welcome India for a lucrative full series, consisting of four Tests and three one-day internationals. They have now received a major boost with the Indian board remaining committed as of now to fulfil their obligations of touring Australia later this year. While the tour is still a few months away, CA believe that a successful India series at home will help them overcome the financial turmoil within the board, a crisis which could push the game in the country into a deeper mire. While talks continue between the two boards on the modalities of the series, there have been speculations that an extra Test could be added to the series, making it five from the scheduled four. However, the BCCI is said to be less inclined in playing an extra Test and has suggested that the two teams can play extra limitedovers matches, a move that would help generate additional revenue in terms of more television money from the Indian audience.
"Once we are sure when cricket will resume, then only will we be able to make a final call on that," said Arun Dhumal, BCCI treasurer. "That discussion [on five Tests] took place before the lockdown. If there is a window available, it would be up to the boards to decide whether they wanted to go for a Test match or maybe two ODIs or maybe two T20s. "Given the revenue loss they will have on account of lockdown, post-lockdown they will want to have revenue and revenue most likely will come from ODIs or T20s much more than a Test match. For any board for that matter, there has been a lot of revenue loss on account of this lockdown and COVID-19, so they would need to think about that," he added.
Dhumal however sounded pessimistic when asked about the fate of the Twenty20 World Cup, due to be played at the beginning of the Australian domestic season. Speaking on the 16-nation tournament, Dhumal reckoned that it would be very tough on the players to head directly into a global tournament first-up without much match-practice. "They will have been out of cricket for a long time. Would you want to be without training for that long and straight away go and play [the] World Cup?" he said. "That is a call every board has to take. It seems to be dificult."
Clearly the discussions will be on Australia paving the way for a shortened IPL in India in October- November by cancelling or postponing the T20 World Cup and India going ahead with the Australian tour in December/January. This will serve financially well for the both the Boards – more so for Cricket Australia. But this arrangement will create issues for other Boards, particularly for Pakistan and Sri Lanka – who will miss out on payments from ICC for T20 World Cup and also none of their players play IPL – wherein BCCI compensates the IPL players Board. Meanwhile, India Coach, Ravi Shastri the after-effects of the current phase, when cricket resumes, will be a "massive challenge for the very best of players". "No matter how big or accomplished a player is, it'll take time to get into the groove once again, regain that ball sense, find your feet out there in the middle - no matter who you are. Not just cricket, but in any sport, that'll be a challenge," he says, and "it's only natural".
Post the lockdown, any board across the world, including the BCCI, should give optimum importance to domestic cricket more than anything else, he says, followed by bilateral tours. "I wouldn't put too much emphasis on world events right now. Stay at home, ensure domestic cricket comes back to normal, cricketers at all levels - international, First Class, etc - all get back on the field. That's the most important bit. Second: Start with bilateral cricket. If we (India) had to choose between hosting a World Cup and a bilateral tour, obviously, we'd settle for the bilateral. Instead of 15 teams flying in, we'd settle for one team flying in and playing an entire bilateral series at one or two grounds. The ICC needs to look at this objectively," Shastri stresses.
India are due to play four Tests and three ODIs in December and January, a visit that could cost Cricket Australia A$300 million, if it doesn't go ahead due to the fallout from the Covid-19 pandemic. However, talks are already underway between CA and the federal government about the protocols that would need to be in place to allow India to visit, and travel exemptions should borders remain restricted. Earlier this week sports minister Richard Colbeck sounded a positive note on the chances of international sport later in the year.
Much has been written and spoken in Australia about how to get the highly anticipated series underway in the coronavirus world, even if it means playing in front of no crowds and at a single venue. Cricket Australia are just as interested in getting the game on the field with a reported $300 million worth of revenue at stake. Aussie stars Josh Hazlewood and Travis Head have both floated the option for Adelaide to host the summer's blockbuster Test series. However, it may cost another hoped for money-spinner with the T20 World Cup under threat as India eye the window as a potential time for the Indian Premier League, which is worth a reported $A830m to the BCCI.