Sports
It's very important that I don't get rusty – Shafali Verma
---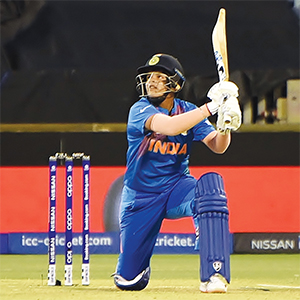 Shafali Verma has attained a cult status – not only in India but around the world for her exploits in the recent World T20 Cup. "The last one month has been pretty special for me. Not everyone is lucky to play in a World Cup with some of the best cricketers. I got the opportunity, and that too at such a young age," Shafali said.
"I will never forget the welcome that I received at my home in Rohtak. There were dhols and music. My relatives received me with garlands and I felt pretty special. It was like a dream after a special tournament. I was eager to get back on the field, but now that is not possible due to the coronavirus outbreak. I was in the middle of my class 10 board exams when the Haryana government postponed it as a precaution in the fight against coronavirus. My cricket practice has also come to a halt. However, I had a strain in my right leg during the T20 World Cup and I am using this time to recover fully," she added.
Shafali is making sure she is busy and does the workout on a regular basis. "My cricket academy is closed for training, but I still go there in the morning for running and other exercises. My daily routine normally involves taking four-five rounds of the ground, a short sprint and some leg exercises. It's mostly light stuff and I am taking it slowly. There are not too many people around when I go there and I can't even hit the ball in the nets. That's a bit frustrating. But in times like these, taking care of one's health is the primary concern. I am following the motto too. I often shadow practice at home with a tennis ball. For a batswoman, it's essential to maintain the rhythm and touch. It's very important that I don't get rusty. Nothing can substitute playing an actual game but one has to make the best out of a situation," Shafali said.
On spending time with the family, the Indian teen star said "One good thing is that I am getting more time with my family now. It's been really great spending time with my kid sister, Nancy. My father was there in Australia (during the World Cup) and I can sense his pride when he talks about me to his friend. The exams are not happening, so I am watching lots of movies too. I have no particular choice of movies but whatever comes on television suits me."
On how she is in touch with playing cricket during the lockdown time, Shafali said "If not for the coronavirus outbreak, I would have been playing the Women's Senior One-Dayer Challenger Trophy at the Motera Stadium (in Ahmedabad, now the world's largest cricket stadium) in a week's time. I was pretty excited to play in that huge stadium but now I don't know when it will start. Even the BCCI office is shut. So, it's all wait-and-watch for me."
"As far as health measures are concerned, I am following Sachin (Tendulkar) sir's message. He tweeted recently to wash hands, maintain hygiene at home and workplace; I am following all that. Everywhere you go, there are messages on the ways to tackle coronavirus—be it on phone, television, newspapers—and it's very important that people follow it seriously. I hope everyone stays safe and healthy."
Skipped Harmanpreet Kaur had some soothing words for Shafali after the disappointing loss. "At 16, I had not watched women's cricket, let alone starting to play myself," India's captain Harmanpreet Kaur said. "And here they are, playing for India. It's a big thing. Yes, Shafali took the dropped chance to her heart. On one level, you understand these are kids we're talking about. But at some level, they must also realise what their mistake was and take this as a lesson. Such things help you become better, look for motivation within. Shafali has a long way to go, but the sooner you learn from these mistakes, the better," Kaur added.
Former pacer Brett Lee said he found it difficult to watch Indian batting sensation Shafali Verma in tears during the crushing women's T20 World Cup final loss to Australia but he expects the 16-year-old to bounce back strongly. Verma, who had a successful run till the final, could not click in the summit clash and was seen sobbing after the final.
"I really felt for Shafali Verma at the end, it was tough seeing her in tears but she should be very proud of the way she's performed in Australia," Lee wrote in his column. "To come out here and face your first tournament head-on is testament to her talent and mental strength, and she's only going to get better from here," he added. "... she'll learn from this experience and come back stronger. Moments like this can define you in a positive way...Don't be surprised to see her put a big score on the Aussies the next time they play."
The former pace ace said he expects the Indian team to come back strongly after the 85-run hiding. "It was a disappointing night for them but they'll certainly be back - this is not the end for them, this is just the start," Lee wrote. "They'd never played in a Final before and we saw in Melbourne how vital that experience is, it takes a long time to get settled and by the time they did, unfortunately the game was gone. Playing in front of a crowd like that takes plenty of getting used to so they'll be better for it and should take a lot of heart from the way they played in Australia," he added.
Meanwhile, Cricket fans have a field day appreciating the raw talent of Shafali Verma while also sharing decrepitating comments on Rishabh Pant as two Indian talents produced contrasting performances at the 2020 ICC Women's T20 World Cup in Australia and Test match in New Zealand respectively.
In a blistering knock against Sri Lanka, Verma hit 47 off 34 balls with the help of seven fours and a six to power India to a seven-wicket win over Sri Lanka in their final group match. The win helped the Harmanpreet Kaurled side top Group A with four wins from four. But, 22-year-old Pant could manage only 12 runs from 14 balls as India failed to post a big total in the first innings against the Kiwis.
And one tweet pretty much summed up the contrasting fortunes of two youngsters: "Shefali Verma is what Rishabh Pant thinks he is".