Sports
Sania Mirza comeback struggle in Melb
---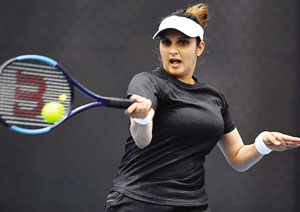 While the American doubles duo, the Bryans, are preparing to bow out, another doubles legend is making a comeback. India's Sania Mirza is back on tour after two years away from the game to have her first child. Remarkably in Hobart, her first tournament since October 2017, Mirza won the title alongside new partner Nadiia Kichenok.
"I went into the tournament hoping to play a match or two," she said. "Winning it obviously meant so much because I don't think anyone expected it, neither did I, to come back after two and a half years and win a tournament," Mirza said of the Hobart title.
On her participation at the Australian Open, Mirza said, "I'm just really happy to be back playing tennis. It's been a long time... I think I speak for all the players, this is probably the best slam there is. I'm really excited to be back." In 2016, Mirza won the Australian Open alongside Martina Hingis, and she could well join the list of Grand Slam winning mothers in a fortnight's time.
However, Mirza explained that one of her hopes is simply to inspire more women back in India that they can achieve success after motherhood. "I feel especially in the part of the world that I come from, when women have a kid or kids, it's treated as kind of an end of their world, it's all about the children," she said.
"I feel that women are made to feel if they go out and chase their dreams, they're probably not the best mothers in the world. I hope that changes. I hope that if my victory or even one match can inspire even one woman to follow her dream or heart, I would be really, really privileged," she added.
Sania Mirza's first Grand Slam outing after maternity leave ended with an early exit as the Indian ace retired mid-way into her women's doubles first-round match due to a calf injury. Sania and her Ukrainian partner Nadiia Kichenok, who came into the major after winning the doubles title at the Hobart International, were trailing 2-6 0-1 against the Chinese team of Xinyun Han and Lin Zhu when the Indian called it quits.
Sania has injured her leg during practice. She is returning to the circuit after a two-year break. Her right calf strapped heavily, Sania struggled to move freely on the court. It also affected her serve. Kichenok was also struggling at the net, often missing easy put-away volleys. Serving at 2-4, Sania was broken by the Chinese and they served out the set easily.
The Indian took a medal timeout after the first set. Soon after, the Indo- Ukrainian pair was broken in the first game of the second set and Sania found it difficult to continue. Sania had also pulled out of the mixed doubles event, forcing compatriot Rohan Bopanna to pair with Kichenok.
The Hyderabadi, whose 15-monthold son was at the tournament crèche when she took the court, said she didn't want to do greater damage to her leg.
"Instead of being out for couple of weeks, I'd be out for six weeks if I aggravated it," she said. "The last time I tore a muscle was in the Australian Open mixed (in 2017), it was an abdominal muscle. Something about my muscles and Melbourne," she added.
Sania said she couldn't pin the injury to any one thing, except that she played four matches on her triumphant return in Hobart. "The body doesn't react the same way anymore," she said.
"It could've been anything, playing all those matches, the wind, the cold. It was really cold in Hobart. It was freezing in the quarters and semis. But when I strained it in the final, the weather was the warmest. You don't really know how it happens. The timing is unfortunate, When you play professional sport, injury is part of it," she added. Sania will be seen in action on the WTA Tour in February in Dubai and then Doha, most likely with Caroline Garcia.