Sports
Shikhar Dhawan sells Clyde North, Melbourne house
---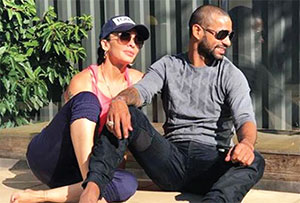 Indian cricketer, Shikhar Dhawan's Clyde North house in Melbourne has been sold for $935,000 post-auction this month. "We had roughly over 100 people at the auction. There were two bidders on the day and the property was passed in for $911,000," Darren Hutchins, founder and codirector of O'Brien Real Estate said. A young couple clinched the house post-auction. "After the auction, a couple from St Albans clinched it for $935,000," said Mr Hutchins.
The real estate agent claims the interest in the cricketer's property was extraordinary. "The interest in Dhawan's property was huge. It created a lot of buzz. It is the most viewed property listing on Real Estate website this year so far," he said. The family's 4-bedroom grand suburban property in Clyde North was listed for sale in the range of $850,000 to $935,000 in July. CoreLogic records the property had previously changed hands for $730,000 in 2015. The opening batsman wasn't at Sunday's auction — he's in the West Indies preparing for a pair of tests, which kick off on Thursday.
But Aesha said she'd managed to call him shortly after the sale to share the good news, despite there being "a bit of a time difference". "We're feeling great. Really, really happy. The energy of the house is beautiful. My kids have grown up in that house, the neighbours are fabulous (and) it's close to my parents. I really will miss it. "But we needed more land — we've got two three dogs. Otherwise we wouldn't have thought about moving," she said. Aesha said she'd look back particularly fondly on a Christmas the family celebrated at the house, when Dhawan was in Melbourne for the summer of cricket and their son Zoravar was one-year old.
Dhawan — who married Aesha in 2012 — wrote on athletedriven website PlayersVoice in December that his life in Australia was "carefree". "Whenever I have a gap in my schedule, I will jump on a plane from India to Australia, come home and spend time with my family," he wrote. "As cricketers in India, we live quite a closed life. We live in hotels for most of the year." Aside from the driving, I found moving from Delhi to Melbourne quite a smooth process. The BCCI had no problem with it and neither did my teammates. I had visited Australia previously and I had a good idea about the lifestyle, the culture and the food. It's a good life.
The housework situation here is quite different, though. In India, we have domestic help but here you do everything yourself. I quite enjoy that change of mentality. I will vacuum the floor and clean up the garden and do the shopping, whereas if I was in Delhi I wouldn't even think about all that. It's the same with my daughters. They clean their rooms and make their own beds here, which I think teaches them good habits. They also know the value of things. One of my daughters has just started part-time work as a dog-walker around our suburb. She knows now how hard it is to earn money. That is a good life lesson for her. The Indian community in Melbourne know I live here and sometimes we get people knocking at the door wanting to meet or get a photo. … But for the most part people are respectful.
My girls are into the local music scene here, but I prefer Punjabi music, my mother tongue. People also tell me I need to get a footy team. My mother-in-law loves the AFL. She supports Carlton. I am happy just to watch it on the TV. I got all my arm tattoos done here in Melbourne. My wife found the guy and he is good. She's my handyman for everything over here and I'm her handyman back in India