Sports
Rabada calls Kohli 'immature'
---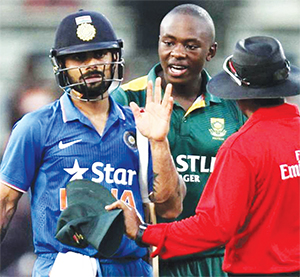 South Africa fast bowler Kagiso Rabada has described India captain Virat Kohli as "immature" and someone who cannot take abuses, while talking about a face-off between the duo in an IPL match. Rabada and Kohli had a verbal exchange during one of the IPL matches between Delhi Capitals and Royal Challengers Bangalore. Kohli is the captain of RCB, while Rabada plays for DC.
Asked about that particular face-off with Kohli in the IPL match, Rabada said, "I was just thinking about the game plan, really, but Virat, he hit me for a boundary and then he had a word. And then when you give it back to him, he gets angry. I don't get the guy. Maybe he does it because it gets him going, but that comes across as very immature for me. He is a phenomenal player but he can't take the abuse," Rabada said.
Rabada was beaten by Kohli for the ICC's Player of the Year award for 2018. He was also beaten by Kohli to the title of the Test Player of the Year award. But Rabada said Kohli deservingly got those recognitions. "That is a huge honour. Kohli undoubtedly deserves it. He has been phenomenal. He has been a pillar for Indian cricket over the past five years. You can't fault the guy. It is not something that you play for, but if an award of that calibre comes your way, it is great," he said.
Virat Kohli has finally responded to Kagiso Rabada's jibe but also praised the South African fast bowler. Replying to Rabada's comments, Kohli said he doesn't want to respond to any player through a press conference before going on to say that the Indian batsmen need to be vary of the threat that Rabada possesses when they take the field against South Africa. "I've played against Kagiso (Rabada) many times and I think we can discuss anything that needs to be discussed man-to-man (on Kagiso calling him immature). I don't need a press conference to answer anything on what he said. Rabada is a world class bowler. He has the kind of skill set to go through any batting order on his day. "Whether he plays with Dale (Steyn) or (Lungi) Ngidi doesn't matter, he is always going to be a threat. We need to respect that and find ways of scoring against him," Kohli told the media ahead on the eve of India's first match of World Cup 2019 in Southampton. India beat South Africa by six wickets with Rabada claiming 2-39 of 10 overs.
Meanwhile Kohli was in the news in India for all the wrong reasons. Virat Kohli was fined after a domestic help was found cleaning a car with running water from a pipe outside his DLF Phase 1 residence in Gurugram, an official said. The Rs 500- fine was imposed after a domestic help was found cleaning a car with running water from a pipe outside Kohli's DLF Phase 1 residence here, an official said. "A penalty of Rs 500 was immediately imposed as per rules on Wednesday and the fine amount was also remitted. The worker was using running water to clean the car, leading to wastage of water," Public Relation Officer, Gurgaon Municipal Corporation, S S Rohilla said.
He said various teams of the civic body go around inspecting water wastage in the city and had taken cognisance of the matter. He added that Gurgaon has a canalbased water supply system. "We issue advisories from time to time, requesting people to judiciously use drinking water. Whether supply water or ground water, if spent like this gets wasted. In this case, the worker could have used bucket instead of running water," the officer said. He said this was not a standalone case in which penalty has been imposed for wasting water, adding lot of times people are found wasting water during gardening as well. Kohli is currently in England where he is leading the Indian team in the Cricket World Cup.