Local News
Satsangh with Swami Swaroopananda
---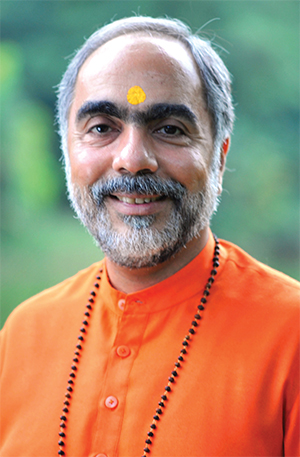 MELBOURNE, 5 APRIL. Internationally acclaimed spiritual leader, His Holiness Swami Swaroopananda, Global Head of Chinmaya Mission Worldwide is currently touring several cities Down Under to spread the knowledge of Vedanta.
Audiences in Perth, Brisbane, Sydney, Auckland and Melbourne will have the opportunity to attend free public discourses on a range of self-enfoldment topics and benefit from his thought-provoking seminars, retreats and camps.
Swami Swaroopananda, renowned devotee of Shri Hanumanji, will be guiding the Melbourne audience in their quest to eradicate life's miseries and find inner peace and contentment, through the melodies of the 8 verses of the evergreen and dynamic Sankat Mochan composition, known to be the magical elixir to blast away one's sorrows.
"Pujya Swamiji", as he is affectionately known amongst his devotees, is a global spiritual leader, author and orator who seamlessly blends authenticity with accessibility; theory with self-practise; head with heart.
He has conducted innumerable public talks sharing the immense Vedantic wisdom from ancient Indian scriptures with mesmerised audiences across the world. His clarity of thought, simple explanations, practical examples and humour make some of the most complex Vedantic concepts easy to understand.
Born and brought up in Mumbai, Pujya Swamiji's early childhood, was filled with enchanting mythological stories from his grandmother and snippets of wonderful talks by Swami Chinmayananda. In his youth, he soon realised that his path and calling in life were different. Inspired by the vision and teachings of Swami Chinmayananda, and under the loving guidance of his spiritual mentor Swami Tejomayananda, Pujya Swamiji chose to lead a monastic life to enlighten and enrich the lives of thousands. Currently, he is also the Chairman of Chinmaya University Trust, Chancellor of Chinmaya Vishwavidhyapeeth Trust, a university for Sanskrit and Indic traditions and the Chairman of the prestigious Chinmaya International Residential School, considered one of the top residential schools in India. Chinmaya Mission, established in India in 1953, by devotees of the world-renowned Vedanta teacher, His Holiness Swami Chinmayananda, believes in the inner transformation of individuals through the knowledge of Vedanta, spiritual practices and service to society resulting in a happy world around them.
In Melbourne, Chinmaya Mission, started as a small study class in Templestowe and has ultimately turned into what is now a flourishing centre called Chinmaya Dham along with centres in Glen Waverly, Keysborough, Berwick, Lynbrook and Point Cook.
They run regular weekly classes for toddlers, children, youth and adults, holiday programs, teenage camps, workshops and family retreats.
The Melbourne ashram is blessed by resident Acharya Swami Aparokshananda who is inspiring the local community through camps, workshops, retreats and discourses on a variety of topics based on Hindu Scriptures.