Local News
India Day Celebration at Melbourne Stars Match at Mcg
---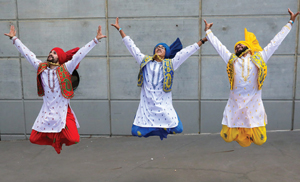 On a glorious day at the MCG, Melbourne's Indian community celebrated the inaugural India Republic Day party at the Melbourne Stars v Hobart Hurricane Big Bash League match on January 27, 2018. The India Republic Day party featured an Indian community dance party on the MCG concourse including performances by South Indian, Bhangra and Bollywood dance groups, Dhol drummers and DJ Manj on the decks providing Indian music for the dancing crowd. Both the Australian and Indian national anthems were performed by local singers.
One of the highlight of the day was the Bhangra dance by the Ranjhe Bhangra group (pictured). Ranjhe are an all boys competitive bhangra team from Melbourne, Australia, who aim to celebrate the richness of Punjabi culture. As a rapidly expanding dance troupe with over 20 members, Ranjhe has performed at many high profile corporate events, private functions and cultural festivals. They have also won several dance competitions including the 2017 Indian Film Festival Telstra Bollywood Dance Competition where they came first and awarded prize by Malaika Arora.
Following the party in the MCG fan precinct, over 550 members of the Indian community came together in a dedicated fan bay to support the Melbourne Stars in their final match of the year against the Hobart Hurricanes. During the match the MCG DJ played classic Indian hits to entertain the crowd. On field, the Melbourne Stars defeated the Hobart Hurricanes by three wickets to give Stars English import Kevin Pietersen a winning farewell in his final Big Bash League match. The Hobart Hurricanes batted first, posting an imposing total of 7-185 but the Stars were able to chase down the total with three wickets remaining including a trademark brilliant innings of 46 from 39 balls from Pietersen.
In addition to Pietersen, the Stars also farewelled English import Luke Wright and Victorian legend Rob Quiney. Pietersen was thrilled with his farewell after a tough season saying: "These guys are unbelievable and that is what I am going take away from this as well as not being booed walking out to bat at Australian cricket grounds."
Clint Cooper, CEO of the Melbourne Stars said: "On behalf of the Melbourne Stars, we were thrilled to welcome the Indian community for our final match of the year. The Indian community is famous for its passion for cricket and it was great to see it in full bloom at a BBL game!" Indian Community Ambassador Ajit Singh said: "The India Republic Day party showed great respect for both Australian and Indian cultures and is a great addition to the calendar. The Indian community loves cricket and dancing and a big thanks to the Melbourne Stars for making this event happen."
The Melbourne Stars Republic Day Party is part of a fan engagement program run by Cultural Pulse and managed by Red Elephant multicultural agency.