Sports
Kohli's Brilliance in Isolation Against South Africa
---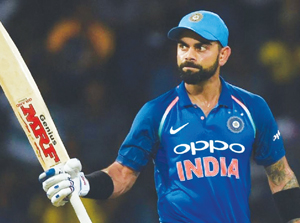 Kohli's brilliance in South Africa – in both Tests and ODIs – takes us to the past when the Indian team relied on the maestro, Sachin Tendulkar in the 90s. Lot has been written and said about Virat Kohli's stupendous effort in South Africa – particularly in the ODI at Cape Town. The numbers dumbfounding - he ran 100 runs, he still finished with a strike rate of over 100, he now has 34 ODI hundreds, and he now has 393 runs in four matches for two dismissals. His average from the first 4 ODIs is a staggering 196.5 and a stunning strike rate of 95.62.
There is no batting record in cricket that the Indian skipper Virat Kohli cannot reach. In the fourth ODI against South Africa at Johannesburg, during his innings of 75, Kohli added another feather to his cap by becoming the fifth-highest run-getter for India in ODIs. He now has 9,423 runs in his kitty from just 198 innings. He surpassed former India captain Mohammad Azharuddin's tally of 9,378 runs that he acquired in 308 innings. At top of the list is Master Blaster Sachin Tendulkar with a whopping 18,426 runs, followed by Sourav Ganguly (11,221) and Rahul Dravid (10,768). Fourth on the list is MS Dhoni with 9,954 runs. In the current series, Kohli has been in great form and has notched two centuries to go with a fifty. In the fourth match also, Kohli got 75 runs, but got out in order to accelerate the Indian innings. After Rohit Sharma was sent back to the pavilion for just five runs, he strung a crucial 158-run partnership with centurion Shikhar Dhawan (109). It is not the first record that Kohli has shattered in the series. During the third ODI at Cape Town, Kohli brought up 34th ODI ton, and 12th as skipper. The Delhi dasher became an Indian captain with most ODI hundreds to his name. He overtook Ganguly's record of 11 centuries in 142 innings. Kohli achieved the feat in 43 innings only. Also this was his 54th international century. In hundreds scored across all the formats, he only ranks behind Tendulkar (100), Ponting (71), Sangakkara (63) & Kallis (62). He is currently level with Mahela Jayawardene and Hashim Amla.
That last statistic is frightening. The highest total by an overseas batsman in a bilateral ODI series in South Africa is 283. Back in 2001-02, Ricky Ponting reached that marker in a seven-match series. Kohli has another two matches to go, and it is possible his total tally of runs from this series may never be surpassed. Another word comes out to mind as regards Kohli's other aforementioned numbers — worrying. Indeed, his current form has put other Indian batsmen in shade. Sample the following figures. Shikhar Dhawan, with 271 runs, was the secondhighest scorer in the Indian innings. Fortunately in the Wanderers Pink ODI, Dhawan scored a century and Kohli score 75.
While appreciating Kohli's brilliance, a concern arises of what the other Indian batsmen are contributing. Dhawan, again, is also the second-highest run-getter in this series with 271 in four matches. Ajinkya Rahane is fourth, with 98 runs, and yet to cross the three-figure mark after four matches. Rohit Sharma is having such a lean patch after a dismal Test performance. Among the currently active Indian ODI batsmen, Rohit Sharma is second in the list of century makers with 16 hundreds to his name. That's a disparity of 18 from Kohli, also a reflection of the gap between him and the remaining Indian batsman.
While Kohli is creating records in ODI's his Test scores have been patchy by his standard. In the recently concluded three-match Test series in South Africa, Murali Vijay (102), Cheteshwar Pujara (100) and Rohit Sharma (78), put together, scored fewer runs than Indian captain Virat Kohli (286). There is no other Indian batsman among the top six scorers of the series. Kohli also stood out with a solitary ton—for either side. Even though India lost 1-2, this was doubtless his series as a batsman. Along the way, he also achieved a rare distinction among Indian batsmen—averaging 50-plus (55.80) in South Africa after two or more tours. Only Australia's Adam Gilchrist averages more than Kohli in South Africa—since their readmission to international cricket in 1991— among visiting batsmen. Despite his 153 in the second Test in Centurion, Kohli might look back on it as a missed opportunity to pick up a rare Test series victory abroad. Though he is known for his expertise as a "chaser" in One Day Internationals (ODIs), that skill does not get translated to the longer format.
There is little doubt now that as an ODI batsman, Kohli is likely to break many of Sachin Tendulkar's records. However, if he wants to carve a niche for himself in Test cricket, he needs to do what Tendulkar couldn't. Lara was rated higher by many because he single-handedly won matches from hopeless situations. This may be just a perception as Lara's Windies were not competitive and he was the lone shining star. Critics place a big emphasis on Kohli's failure in England. That was a different Kohli to what the world sees today. He has become the Captain and has matured in his batting. Kohli has a better chance of winning overseas Test matches after fourth-innings chases than a Tendulkar or Lara. He has a good support cast in batting apart from an outstanding bowling attack, a luxury neither Tendulkar nor Lara enjoyed during their careers.
Since January 2017, Kohli has amassed 1778 runs in 29 innings at a staggering average of 88.90, including eight hundreds and another seven fifties. Clearly Kohli is performing at a scale different from the other members of the Indian dressing room. While the captain has taken his game to an even higher, previously-unimaginable level, there is no doubt that more consistency and runs are needed from different quarters of the Indian batting line-up.
Virat Kohli has left cricket fraternity in awe with his prolific run scoring ability in all three formats of the game. Kohli, who scored his 34th ODI hundred to fashion Indian cricket team's win against South Africa in Cape Town was praised by none other than Javed Miandad, former Pakistan cricket Captain. Miandad, the latest to join the club of Kohli admirers, declared Kohli as the best batsman in the world during an interview. "Kohli is a genius who is the best batsman in the world," he said. Underlining the importance of having a right technique to become a great batsman, Miandad attributed Kohli's remarkable success to his correct batting technique and ability to adapt to different conditions and bowlers.