Sports
Don't hide Anushka's relationship – Zaheer told Kohli
---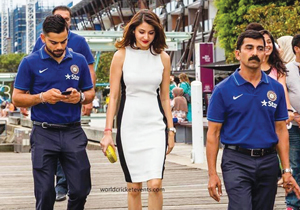 Zaheer Khan told Virat Kohli about his relationship with Bollywood actress Anushka Sharma, after the 2013 England tour that "whatever you do, don't try to hide it. Because you'll stress yourself out and you're in a relationship, not doing anything wrong. Not committing a crime'. The team India skipper also revealed how his long-time girlfriend helped him during his tough phase in 2014 and helped him overcome it.
Indian Captain Virat Kohli has revealed how former India paceman Zaheer Khan helped him in his relationship with Anushka Sharma. The Indian captain also shed light on how the Bollywood actor, whom he has been dating since 2013, "motivated" him out of poor form after India's unsuccessful tour to England in 2014.
Kohli faced severe criticism after India lost the five-match series 3-1 in England as he managed only 134 runs from 10 innings at 13.50. He had no clue to deliveries that were leaving him in swinging conditions and the English bowlers consistently exploited his weakness.
On top of that the Delhi batsman along with his teammates had a woeful time at the slip cordon as they grassed more balls than they caught.
However Kohli hit four back-to-back centuries Down Under as Anushka watched, particularly in Melbourne. While a section of fans across the country started blaming Anushka for Kohli's failure, the Board of Control for Cricket in India (BCCI) reportedly restricted the company of wives and said no to girlfriends on tours after the England drubbing.
Kohli went on to reveal why the 2014-15 tour of Australia proved "special" for Anushka and himself. Notably, the right-hander led the team from the front with four centuries during the four-match series, in which MS Dhoni retired as Test captain. The Delhi batsman said Zaheer helped Anushka and himself handle their relationship in public.
He added that the left-arm fast bowler was "one of the first guys" he approached regarding the issue. "I am actually very grateful that my first interaction about this was with Zak [Zaheer]. He told me the right thing and I have followed it ever since," Kohli told television presenter Gaurav Kapoor during his YouTube show "Breakfast with Champions".
"Luckily he was one of the first guys I spoke to about this. We [Anushka and I] don't go out there and be madly vocal about it [relationships] or have social media conversations, which I fail to understand. But, we don't hide it" he added.
Meanwhile, Bollywood actress Anushka Sharma has revealed the reason why she won't talk about her hush-hush relationship with Indian cricketer Virat Kohli. Speaking at length about her relationship, the actress admitted that it (talking about her relationship) was just a 'deterrent' in her life as she was putting up some of her best performances, but it was her personal life that grabbed headlines.
When asked to comment on her relationship with Virat, the actress first refused to budge, but on further probing, said, "Fair enough. I will tell you why I don't want to talk about it. I was open about my relationship because I thought that's me handling something maturely and I expected people also to handle it maturely. But I feel not everyone knows how to do that. All they are interested in its scoops. 'Oh! They met.' - If you are dating someone you will meet them na? How can meeting someone become such big news? It was just too much. As an actor, I was giving some of my best performances but in an interview, the headline would always be about my personal life."
She added, "actors in the west also date each other, are married, but when you read their personal interviews, their personal life is just a part of it. But here interviews just become about your personal life".