Sports
Why hockey players in Australia are going nude
---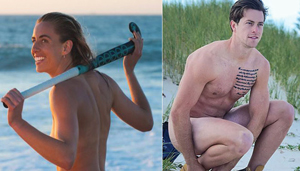 PERTH, 16 NOV. Lending its strong support to the LGBT community and to discourage homophobic slurs in sport, The Perth Python men's hockey team in Australia just did the unthinkable – shed all their clothes on the field for a calendar photoshoot.
"Growing up, I would hear a lot of homophobic slurs thrown around the hockey field. I wasn't able to stand up for others or myself because I was too scared of being rejected by my teammates," the watoday.com quoted Perth hockey player Reid Smith as saying.
"This calendar, as part of the work we are doing at The Perth Pythons, is our contribution to making hockey a more inclusive sport. The calendar will be launched at the Perth Pride Cup on Nov 23.
Australian hockey player Dylan Wotherspoon said: "I'm excited to see active steps being taken to ensure that a more inclusive sporting environment is created for generations to come. Out On The Fields" the report claimed that the research found that 80 percent of participants had experienced or witnessed homophobia while playing or watching sport."