Local News
Hardik Patel caught in a sex scandal
---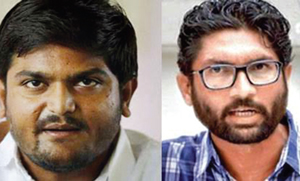 GUJARAT, 15 NOV. Jignesh Mevani, the young Gujarat politician, has now come out in support of his friend Hardik Patel after an alleged sex tape believed to be featuring the Patel quota leader became viral on the internet.
The reactions from Mevani came hours after some local Gujarat channels aired what was described as a "sex CD" of Hardik Patel. A man having a close resemblance to Hardik Patel can be seen with an unidentified woman, in the alleged sex CD.
The video, which appears to have been filmed on a hidden camera in a hotel room, has a time-stamp of May this year. However, the authenticity of the video can't be verified. Meanwhile, one more video has gone viral on the social media, which allegedly shows Hardik Patel taking alcohol with his friends.
Reacting to it, Hardik Patel had called it a handiwork of BJP, which he alleged was indulging in ''dirty politics''. The 24-yearold Patel community leader has taken a pledge to help like-minded parties defeat the ruling BJP in next month's assembly election in Prime Minister Narendra Modi's home state.
Hardik Patel had about a week ago predicted that a video of him having sex would be circulated to damage his reputation as Gujarat approaches its voting dates of December 9 and 14. Accusing BJP of playing dirty politics, Patel said that the ruling party had done the same in the past too. The BJP had done that earlier too in order to make electoral gains, he had said then. In 2015 too, an alleged sex tape featuring Hardik Patel had hit the internet.
Hardik Patel's Patidar Anamat Andolan Samiti (PAAS) is expected to forge an electoral alliance with Congress in order to defeat the ruling BJP in the upcoming polls.