Local News
India to buy 22 Apache helicopters from US
---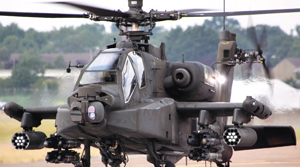 NEW DELHI, 30 JUNE. India and the US have signed a deal for the supply of 22 Apache helicopters, considered one of world's most lethal combat machines, to the Indian security forces, making it one of the few nations to have such a high-tech aircraft in its stable.
The Apache helicopters are considered world's most lethal attack choppers. These attack helicopters have been in service since 1984. The US has reportedly produced more than 2,100 such choppers so far. The Apaches are four-blade, twin-turboshaft attack helicopters with a tailwheel-type landing gear and a tandem cockpit for two crew members. It is equipped with a nose-mounted sensor suite to select targets, night vision, Hellfire missiles and Hydra 70 rocket pods, among other things.
India will purchase 22 of its latest version with latest Block III configuration at a cost of about $ 1.4 billion. The helicopter is designed for all kinds of missions, and hence it is stealthy and versatile. It also has laser and infrared systems for all weather operation ability. This will perhaps be India's first pure attack helicopter in its possession.