Sports
Sudha clinches gold, India still tops medal tally
---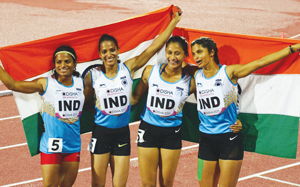 India clinched one gold through Sudha Singh in women's 3000m steeplechase event and four other medals to maintain their numero uno position on the third and penultimate day at the 22nd Asian Athletics Championships.
The 31-year-old Sudha won her race in 9 minute 59.47 seconds to grab the lone gold for India to steal the limelight in front of a packed crowd at the Kalinga Stadium.
It was Sudha's first gold in her fourth attempt in the Asian Championship.
Anu Raghavan added a silver in the women's 400m hurdles, while woman triple jumper N V Sheena, man 400m hurdler Jabir M P and the women's 4x100m relay team grabbed a bronze as India took one gold, one silver and three bronze today. With one day left in the championship, India remained on top of the medal tally with 7 gold, 4 silver and 9 bronze. China are second spot with 5 gold, 6 silver and 4 bronze while Iran are on third with 4 gold and 1 bronze.
The Uttar Pradesh athlete led from the very beginning, and after running together for a while along with the other five competitors, broke away around the halfway mark and left all her rivals way behind to win the gold.
She took a lap of honour after her win which also ensured her a berth in next month's World Championship in London.
"I am very happy to win this gold. This is my top level competition after Rio Olympics. I was down with swine flu after the Rio Olympics and I was down for five-six months and after that I started training slowly and steadily. So, this win is special. It is a slow timing but the conditions are not that good," she said after her win.
"My coach told me not to hang around for long. He told me to break away from the rest and not wait for the final moment. That was what I did," she added.
India grabbed four gold medals on a rain-soaked second day of the Championships. Haryana girl Nirmala Sheoran began the gold spree for the hosts by winning the women 400m and soon Muhammad Anas did an encore in the 400 men's event. Rajiv Arokia and Jisna Mathew added a silver and a bronze in men's and women's 400m respectively.
More domination was in store for the home athletes as P U Chitra and Ajay Kumar Saroj bagged a yellow metal each in men's and women's 1500m race.
All the gold winners in this championships get automatic qualification for the World Championships to be held in London next month.
Unheralded Chitra and Saroj to give India two unexpected gold in 1500m as they come triumphant with the crowd watching in disbelief.
The 22-year-old Kerala girl Chitra clocked 4 minute 17.92 seconds to win the race to finish way ahead of second placed Geng Min of China (4:19.15) and Ayako Jinnouchi (4:19.90) of Japan.
"It is a surprise I have won gold. I did not expect it. I don't know what to say. I am very happy," said Chitra.
Chitra's male counterpart, 20-year-old Saroj completed the four-gold haul in a span of stunning 30 minutes by finishing the race in 3 minutes 45.85 seconds. It is his first major title.
He was a tad slower than his personal best of 3:44.4 which he clocked in April last year.
"I will not say that I was expecting gold but I prepared my best, thinking that anything can happen. This is my first major win in a senior international event," Ajay said.
An elated Athletics Federation of India Secretary C K Valson said that India can produce their best performance this time.
"We are expecting at least five gold medals in the next two days and that will take us to our historical best performance. We can do that this time," he said.