Sports
Kohli surpasses Tendulkar's century count on chases
---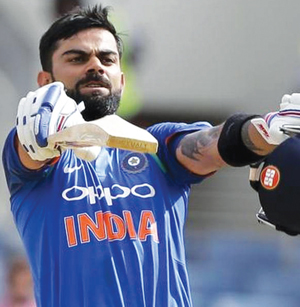 India skipper Virat Kohli has broken Sachin Tendulkar's record for most centuries in One-day Internationals while chasing. Tendulkar took 232 innings to reach 17, while Kohli has reached the milestone of 18 in only 102 innings. Kohli led from the front with a fluent century as India wrapped up the five-match series 3-1 with a convincing eight-wicket win over the West Indies.
This was Kohli's 28th hundred in One-day cricket, 18 of which have come while chasing. Third in the list is Sri Lankan Tillakaratne Dilshan, who scored 11 centuries in 116 innings while batting second. Kohli also became the first Indian captain to score two hundreds against the West Indies in the Caribbean. Previously, only Rahul Dravid had scored a hundred as captain in the Caribbean against the West Indies.
Overall, this is Kohli's fourth ton against the West Indies. Kohli has again staked his claim for the mantle as the world's leading white ball batsman after drawing ever closer to the two most prolific one-day international century-makers of all-time, Sachin Tendulkar and Ricky Ponting. To date, Kohli has outpaced Ponting and Tendulkar, both in terms of centuries made and overall runs scored.
As an endorsement of his stature in world cricket, India captain Virat Kohli was hailed by the South African star A.B. de Villiers labelling him "the outstanding cricketer in the world". Kohli, 28, moved to the top of the One-Day International batting rankings as the runs from Champions Trophy and West Indies ODI series have taken his total runs in the 50- over format to 8,257 at an average of 54.68. Earlier, Kohli created another record, taking just 175 Innings to reach 8000 ODI runs - the fastest for any cricketer and went past AB de Villiers, who got to the landmark in 182 innings. De Villiers characterised Kohli as "being a consummate surgeon at the crease. He has been blessed with wonderful natural talent, but, as ever among high achievers, his talent is underpinned by a willingness to work hard," wrote de Villiers in his column.
De Villiers, who endured a disappointing tournament in charge of the No. 1-ranked side, says Kohli is also able to cope with the extreme pressure that comes with being captain of the Indian cricket team. "Beyond the golden talent and the iron determination, Virat has learned how to cope with the pressures of his exalted position," said de Villiers. "If you drive into almost any city in India, you will see his face appear on every other billboard. Being the most marketable and possibly the most popular personality in a nation of 1.3 billion people brings its own pressures: he simply cannot move without being begged for a 'selfe' and his every move, word and even gesture is relentlessly reported in print, electronic and social media. Twitter whirred when he stuck out his tongue to celebrate a wicket against Bangladesh. Virat has learned to live with these realities," he added.
Meanwhile, Virat Kohli, with more than 35 million fans, has now become the most followed celebrity on social media platform Facebook in the country. The 28-year-old had around 6,00,000 more followers than Bollywood actor Salman Khan, making him the top-scorer even on social media. Under Virat's captaincy, India won a lot of matches in all the three formats of the game, thus making him the most popular athlete in the cricket-crazy country.
The only person who is above the Royal Challengers Bangalore skipper is Indian Prime Minister Narendra Modi who has 42,285,934 Facebook followers. Virat Kohli, who is now a huge brand in India and overseas, enjoys 3,57,25,719 fans on Facebook, 16 million followers on Twitter and 14 million on Instagram. Kohli is now number 52 in celebrity list across the world on Facebook. Cristiano Ronaldo leads this world list, followed by Shakira and Vin Diesel.